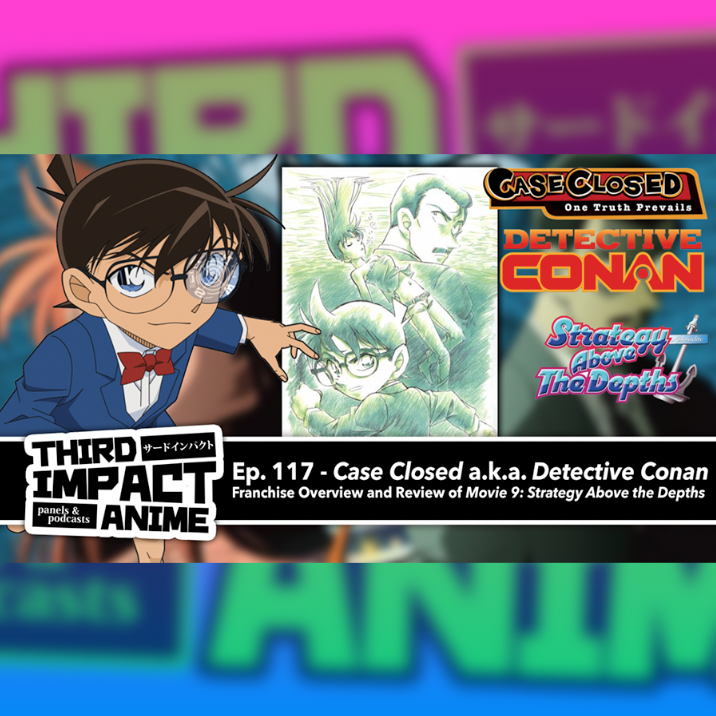 One truth prevails, and that truth is that Bill is a huge Detective Conan fan. Yet, he's never had a chance to gush about it on the podcast. That changes today with our first podcast on the long-running mystery series, Detective Conan a.k.a. Case Closed! Bill introduces the franchise with a historical breakdown and explanation of what the essence of Conan is. Then, Bill and Austin review Movie 9: Strategy Above the Depths, Bill's chosen title to introduce to a total newb.
Before the review, Austin and Bill talk about what they've been watching and some current event news including Netflix Cowboy Bebop reactions, the passing of Keiko Nobumoto, the announcement of Netflix's Bubble, Jojo's Bizarre Adventure returning, and Austin being a guest on The Film Buds Podcast talking about Tokyo Godfathers.
You can check that out here: https://podcasts.apple.com/us/podcast/the-film-buds/id1251074853
If you enjoy this or any other episode, leave us a Rating and Review on Apple Podcasts!
Show notes are available on our website: www.thirdimpactanime.com
More helpful links: https://linktr.ee/thirdimpactanime
Follow us on Twitter at twitter.com/TI_Anime
Subscribe on Apple Podcasts | Google Podcasts | YouTube | Stitcher | Podbean