Third Impact Anime is a bi-weekly podcast focused on exploring the history, artistry, and community of anime. From series reviews to convention coverage and guest interviews, we strive to bring you content that is fun, informative, and interesting! Hosted by Austin (@bebopshock) and many awesome co-hosts.
Episodes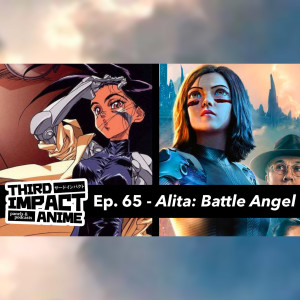 Sunday Mar 10, 2019
Sunday Mar 10, 2019
If we had to sum up our review of Alita: Battle Angel, it would be "go see this movie!" 
Austin, Tobias, Tori, and Bill give their thoughts on the film, how it compares to the original OVA, what their favorite moments were, and we answer your questions from Twitter and Facebook! 
We will be Featured Guest Panelists coming up at the end of this weekend in Winston-Salem, NC at Triad Anime Convention: www.triadanimecon.com. If you're planning on attending, definitely come say hi or come check out one of our many panels. Tobias and Austin will be floating around all weekend. 
The brand-new TIA logo is courtesy of Basil from the OSM Cast! (@itsbasiltime on Twitter).
The song is "Swan Song" by Dua Lipa, the official end credits track for Alita: Battle Angel
Thank you for listening! Want to support our podcast? Please share our episodes with your friends or visit our iTunes/Stitcher pages and leave a review, we would really appreciate it!
Website: https://thirdimpactanime.com/
Twitter: https://twitter.com/TI_Anime/
Facebook: https://www.facebook.com/thirdimpactanime/
PodBean: https://thirdimpactanimepodcast.podbean.com/
YouTube: https://www.youtube.com/channel/UCnD4tDaOg7m3A0xatHfAc1g
iTunes: https://itunes.apple.com/us/podcast/third-impact-anime-podcast/id1313595090?mt=2
Google Play: https://play.google.com/music/listen?u=0#/ps/Il3e2lqbq2awcml5zuxa64lh7m4
PlayerFM: https://player.fm/series/third-impact-anime-podcast-2361453
Stitcher: https://www.stitcher.com/podcast/third-impact-anime-podcast