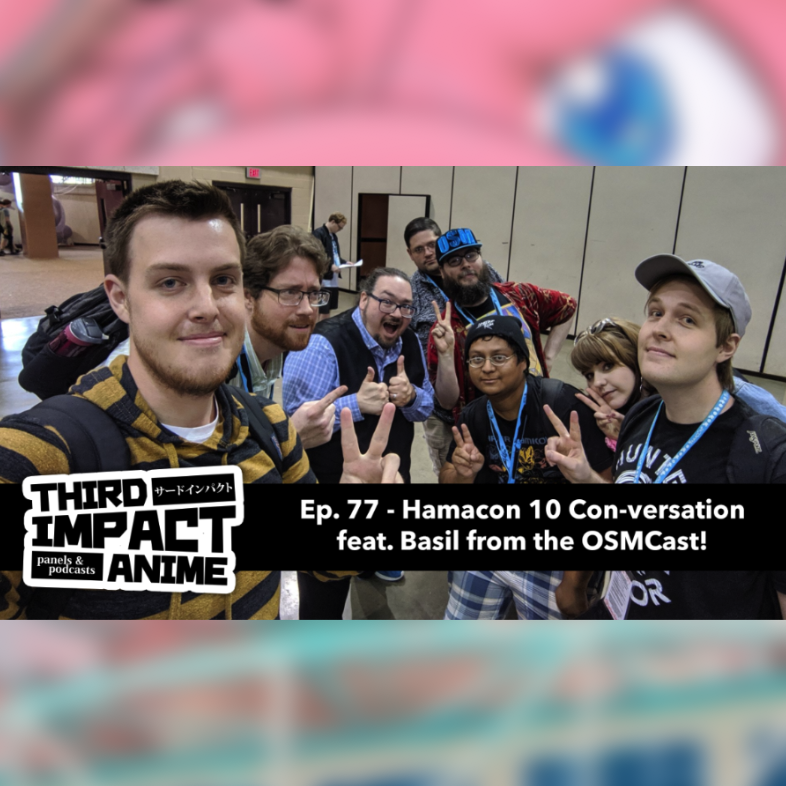 A couple weeks ago, we were given the great pleasure of attending Hamacon in Huntsville, Alabama for the second year in a row as their Featured Panelists. This year's Hamacon was the last EVER and while we are sad to see it go, we are truly grateful for the great times and awesome friends we've made through it! 
In this con-versation episode, Tori, Tobias, Austin, and Edwin are joined by fellow podcast host, current co-director of Momocon, and former Director of Awesome at Hamacon, Basil Berchekas (@itsbasiltime on Twitter). Also, before we chat about Hamacon, Sully stops by to tell us about his experience traveling out to San Diego for Comic Con.
We also chat about the KyoAni arson attack, the history of Hamacon, our panels, and share con stories new and old.
Thank you for listening! If you'd like to support our show, please consider sharing it with your friends!
Show notes are available on our website: www.thirdimpactanime.com
Hit up Basil and the OSMcast over at osmcast.com
More helpful links: https://linktr.ee/thirdimpactanime
Follow us on Twitter at twitter.com/TI_Anime
Subscribe on Apple Podcasts | Google Play | YouTube | Stitcher | Podbean