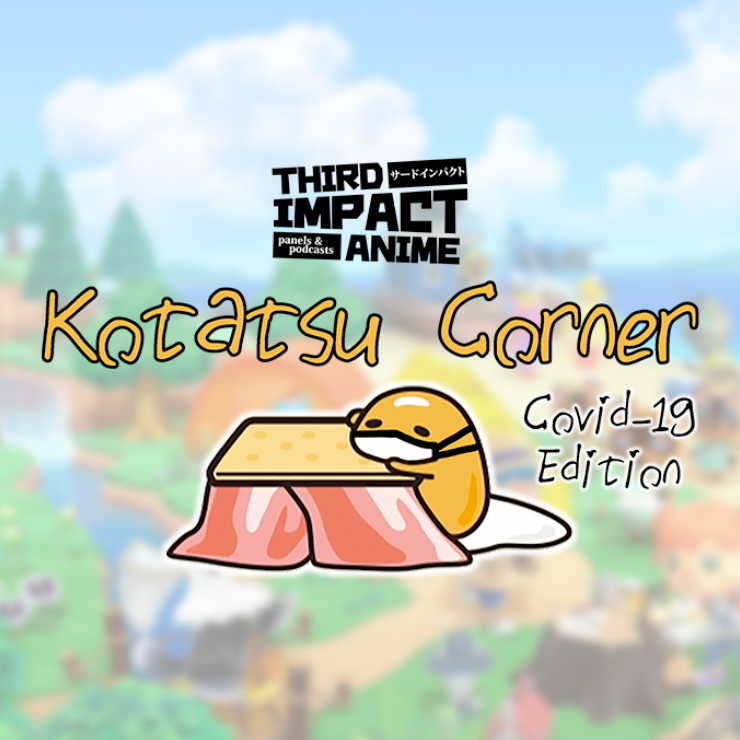 Welcome to a brand-new sub show on the Third Impact Anime Podcast; Kotatsu Corner!
Kotatsu Corner is a mini-sode series where we take a break from our typical, highly organized episodes and just chat about whatever is on our minds. Naturally, most of the things on our minds are anime, video games, books, movies, and the occasional international pandemic. 
We're hoping to do these monthly, or bi-monthly. We'll see how it goes.
In this episode, we discuss coping with COVID-19, cancelled conventions, Animal Crossing, FFVII Remake (which we hadn't played yet at the time), the almighty MOFA, and more!
Please enjoy! Also, this is Tori's debut as an episode editor. Wahoo!
As always, thanks for listening! Please consider subscribing and sharing this episode with a friend.
Please continue to take precautions and stay safe during the currently ongoing COVID-19 crisis.
Show notes are available on our website: www.thirdimpactanime.com
More helpful links: https://linktr.ee/thirdimpactanime
Follow us on Twitter at twitter.com/TI_Anime
Subscribe on Apple Podcasts | Google Play | YouTube | Stitcher | Podbean